Shunosuke Ishikawa
Sax, Flute, Bossa Nova Guitar player
Debuting from Meiji University Big Sound Society, Shunosuke studied Jazz in New Orleans (2001-02) before graduating from Codarts in Rotterdam with a degree in Jazz Saxophone, Brazilian Guitar and Music Education (2002-07).
2012: Released two original songs on iTunes, both reaching number one on the charts
2013: Performed as a big band member of Quincy Jones The 80th Celebration Live in Japan.
2014: Performed as part of Natalie Cole's opening act at Montreux Jazz Festival in Kawazaki.
2015: Released new album 'Mind Your Step'. Toured Europe in 7 locations (Holland, England and Germany), and performed live on NHK-FM Sessions 2016.
2016: Released 'Can't wait for spring' on iTunes.
2018: Debuted as a model for ZOZOTOWN Japan.
Studied the saxophone with Brice Winston, Dick de Graaf, Ben van den Dugen, Benjamin Herman, and Simon Rigter.
Played with Jazz greats Nicholas Payton(tp), Lee Konitz(as), Russell Batiste(ds), Bernard Purdie(dr), Tommy Smith(ts), John Abercrombie(g), Gerard Presencer(tp), Adam Nussbaum(dr).
Interpreted for workshops and interviews with Eric Alexander, Dick Oatts, Scott Hamilton, Paquito D'Rivera, Ravi Coltrane, Mark Turner, Kirk Whalum, Max Ionata, Bob Shepard, Bill Evans, Ben van Gelder, Vincent Herring, Candy Dulfer, Roy Hargrove.
Writing articles for major magazines such as Sax World, Jazz Life and The Sax.
Live & Events
If this topic does not show correctly, please refresh the page.
2023年12月2日

SHU CLASS CONCERT VOL.9

2023年12月2日

[image]

2023年12月3日

noon presents 〜holy warm night 2023〜

2023年12月3日

OPEN 18:15 / 1st 19:00 / 2nd 20:30
入れ替え制ではありません、2ステージ通してご堪能ください。
開演前と幕間にお食事をお楽しみいただけます。

noon Vo 渡辺翔太 Pf 増原巌 B 木村紘 Ds maiko Vn 石川周之介 Sax

https://satin-doll.jp/schedule/20231203-1/

[image]

2023年12月7日

BLUE EARTH MUSIC PROJECT 金子隆博 produce 東京バンスキング 2023 WINTER

2023年12月7日

12月7日(木)
開場 17:00 / 開演 18:00
BIG HORNS BEE & カムカム"モダン"ジャズバンド
ゲスト:Mikan Hayashi (From ゲシュタルト乙女)

12月8日(金)
開場 17:00 / 開演 18:00
金子隆博 & カムカム"トラッド"ジャズバンド
ゲスト:石井竜也

12月9日(土)
開場 14:00 / 開演 15:00
金子隆博 & カムカム"トラッド"ジャズバンド
ゲスト:宮沢和史

12月10日(日)
開場 14:00 / 開演 15:00
金子隆博 & カムカム"トラッド"ジャズバンド
ゲスト:一青窈

[image]

2023年12月8日

BLUE EARTH MUSIC PROJECT 金子隆博 produce 東京バンスキング 2023 WINTER

2023年12月8日

12月7日(木)
開場 17:00 / 開演 18:00
BIG HORNS BEE & カムカム"モダン"ジャズバンド
ゲスト:Mikan Hayashi (From ゲシュタルト乙女)

12月8日(金)
開場 17:00 / 開演 18:00
金子隆博 & カムカム"トラッド"ジャズバンド
ゲスト:石井竜也

12月9日(土)
開場 14:00 / 開演 15:00
金子隆博 & カムカム"トラッド"ジャズバンド
ゲスト:宮沢和史

12月10日(日)
開場 14:00 / 開演 15:00
金子隆博 & カムカム"トラッド"ジャズバンド
ゲスト:一青窈

[image]

2023年12月9日

BLUE EARTH MUSIC PROJECT 金子隆博 produce 東京バンスキング 2023 WINTER

2023年12月9日

12月7日(木)
開場 17:00 / 開演 18:00
BIG HORNS BEE & カムカム"モダン"ジャズバンド
ゲスト:Mikan Hayashi (From ゲシュタルト乙女)

12月8日(金)
開場 17:00 / 開演 18:00
金子隆博 & カムカム"トラッド"ジャズバンド
ゲスト:石井竜也

12月9日(土)
開場 14:00 / 開演 15:00
金子隆博 & カムカム"トラッド"ジャズバンド
ゲスト:宮沢和史

12月10日(日)
開場 14:00 / 開演 15:00
金子隆博 & カムカム"トラッド"ジャズバンド
ゲスト:一青窈

[image]

2023年12月10日

BLUE EARTH MUSIC PROJECT 金子隆博 produce 東京バンスキング 2023 WINTER

2023年12月10日

12月7日(木)
開場 17:00 / 開演 18:00
BIG HORNS BEE & カムカム"モダン"ジャズバンド
ゲスト:Mikan Hayashi (From ゲシュタルト乙女)

12月8日(金)
開場 17:00 / 開演 18:00
金子隆博 & カムカム"トラッド"ジャズバンド
ゲスト:石井竜也

12月9日(土)
開場 14:00 / 開演 15:00
金子隆博 & カムカム"トラッド"ジャズバンド
ゲスト:宮沢和史

12月10日(日)
開場 14:00 / 開演 15:00
金子隆博 & カムカム"トラッド"ジャズバンド
ゲスト:一青窈

[image]

2023年12月17日

Paris Match@日本橋三井ホール

2023年12月17日

paris match winter special X'mas concert 2023

ミズノマリ(Vo)
杉山洋介(G,key)
樋口直彦 (G)
坂本竜太(B)
濱田尚哉 (Dr)
堀秀彰 (Key)
佐々木史郎(Tp)
石川周之介(Sax)
佐野聡 (Tro)
黒沢綾 (Cho)

【paris match winter special X'mas concert 2023】
■日時:2023年12月17日(日)
■会場:日本橋三井ホール
■時間:OPEN 16:15 / START 17:00
■料金:前売り ¥7,500(税込) / 当日 ¥8,000(税込)
《全席指定/ドリンク代別》
*3歳以上よりチケットが必要となります。

〈オフィシャル抽選先行受付〉
2023年9月9日(土)20:00~9月20日(水)23:59
受付URL:https://eplus.jp/parismatch/

〈一般発売〉
各プレイガイドにて
2023年10月21日(土)12:00~

◎お問い合わせ
HOT STUFF PROMOTION 03-5720-9999 (平日12:00~15:00)
http://www.red-hot.ne.jp

[image]

2023年12月22日

石川周之介カルテットPremium Xmas Live –

2023年12月22日

出演石川周之介カルテット
日時12月22日 (金)
料金¥7,000 (パーティフード、ドリンク付)

※フード等の内容、ご提供スタイル等は予告なく変更される場合があります

開演19:30 – 21:30 (Open 18:30)
チケット販売https://ele-cafe-6.peatix.com/view
会場Electric Cafe
〒107-0062
東京都港区南青山3丁目4-2
BASE南青山3F

https://www.ele-cafe.jp/events/2264

[image]
Discography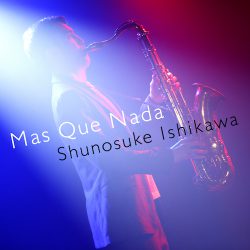 Artist

Shunosuke Ishikawa

Released

2018

Genre

jazz
CONTACT
The Sixth Sense 
〒108-0074,Citytower Takawa 1602,1-23-23, Takawa, Minatoku,Tokyo
TEL:03-6450-4341 FAX:03-6450-4342